25 DECEMBER | CHRISTMAS PARTY
Are you ready for a glamorous Christmas day? 🎄
Bring your best Christmas outfit, get on board Hype, and welcome you all back at 1:30 PM from Chalong Pier for a glamorous Christmas party! ✨
Behind the decks, we have 4 amazing Djs :
– Kraiz
– Creeps
– DJ New Version
– DJ SZO
They will bring us music as we sail off into the sunset. 
Chalong Pier
1:30 PM - 8 PM
11 DECEMBER 2022 | MAGIC PARADISE
Magic paradise is coming soon on HYPE BOAT CLUB 🌴 🥳
On the 11th of December 2022 join us for the exclusive post-party on our luxurious boat, tickets for this event will be minimal!
3 DJs will be on board:
– Marzziano
– Sami
– and… a secret guest!
Be ready for a fantastic party at sea! We are the Magic Paradise family!
Stay tuned for more details :
https://www.facebook.com/magicparadiselive/
https://www.instagram.com/magicparadiselive/
31 OCT 2022 | HALLOWEEN BOAT PARTY
𝐀𝐫𝐞 𝐲𝐨𝐮 𝐫𝐞𝐚𝐝𝐲 𝐟𝐨𝐫 𝐚 𝐜𝐫𝐚𝐳𝐲 𝐇𝐀𝐋𝐋𝐎𝐖𝐄𝐄𝐍 𝐝𝐚𝐲 𝐚𝐭 𝐬𝐞𝐚? 🎃
Bring your best costume and get on board our luxurious party boat ! A make-up artist will be on board to turn you into monsters ! 😈
Welcoming you all back at 2PM from Chalong Pier on Monday 31th October, this will be a party you don't want to miss.
Behind the decks, we have Nicola Vega, DJ VIRAK (Catch Beach Club) and DJ MARKHESE bringing us tunes as we sail into the sunset. 🎶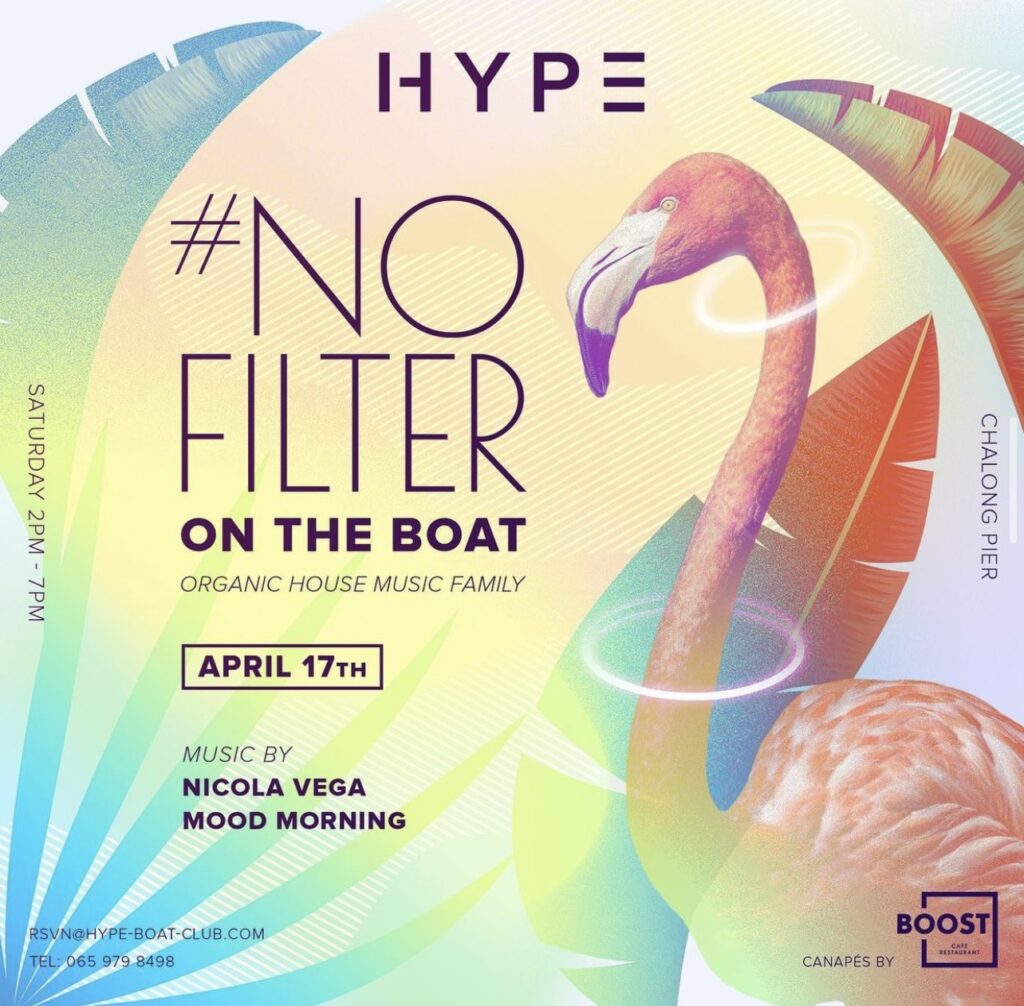 #NOFILTER
#NOFILTER X HYPE Saturday April 17th 2022 !????????
After a legendary Anniversary and comeback to life, HYPE welcomes @nofilter_deephouse with music by @nicola_vega , supported by Mood Morning, for a frenzied organic house music boat party. ????????
Come finish off your Songkran week euphoria with us, as we sail and pump it up to a hush hush paradisiac location! ????????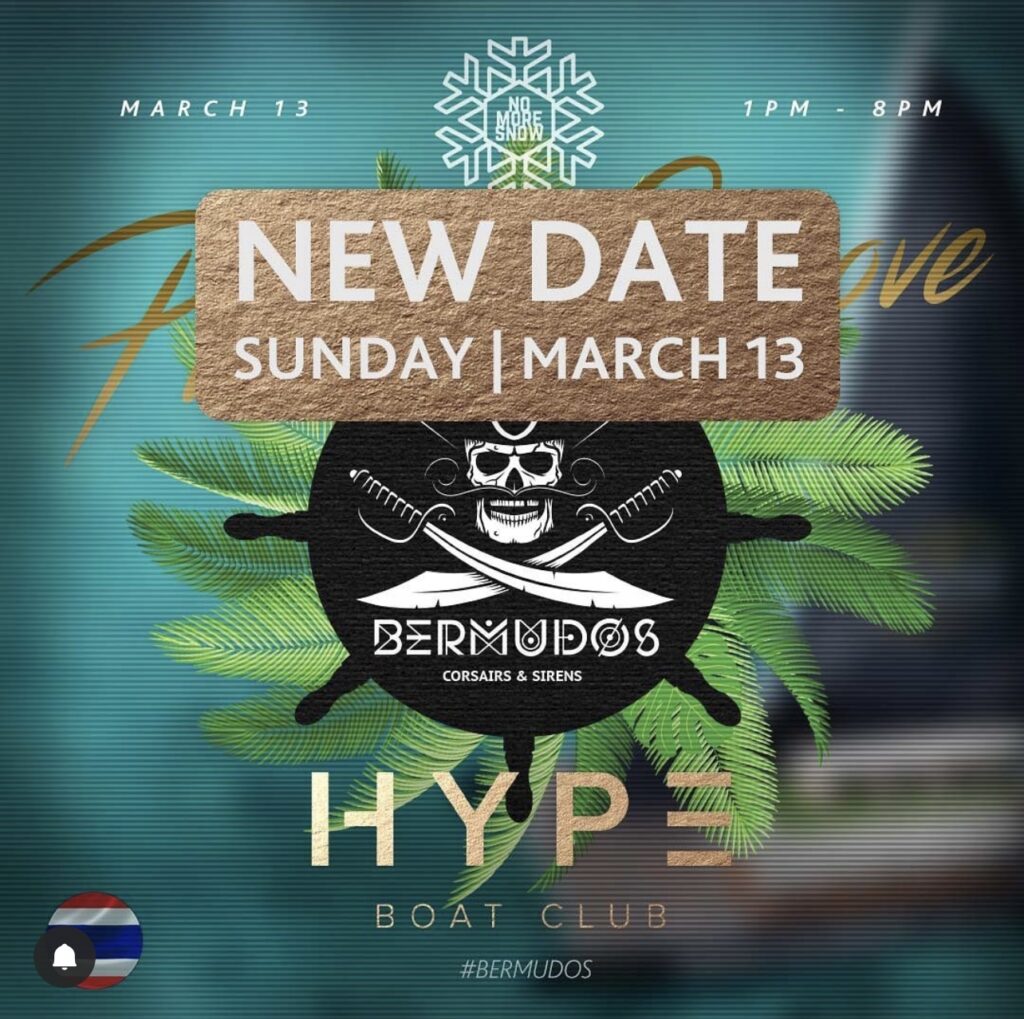 BERMUDOS
This time the Bermudos Sea Dogs will join forces with NoMoreSnow Corsairs to takeover the Hype Boat decks once again! ☝️????
One more time we will takeover the ship's helm and navigate the boat straight to the sun. With music, drinks and tasty food.
If you have a Pirate Hat, an eye-cover, a wooden leg or a hook instead of a hand — you're highly welcome to drink a sip of Rum with us!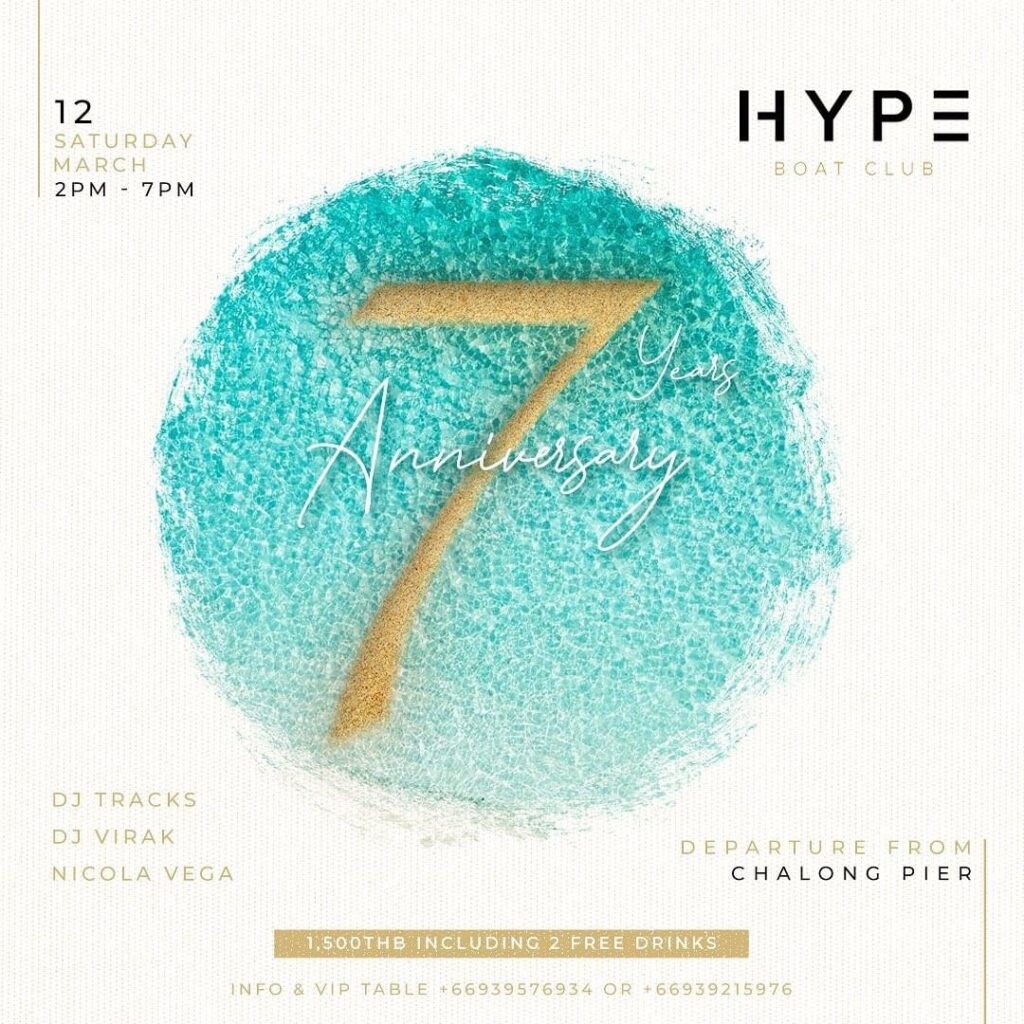 Hype 7th anniversary
We are celebrating our 7th year anniversary and bringing good times on Saturday March 12th 2022 !
Expect a wild trip as we set sail for a blissful day and an epic party from 2pm-7pm, from Chalong Pier to a paradise island, for chat promises to be a festive weekend !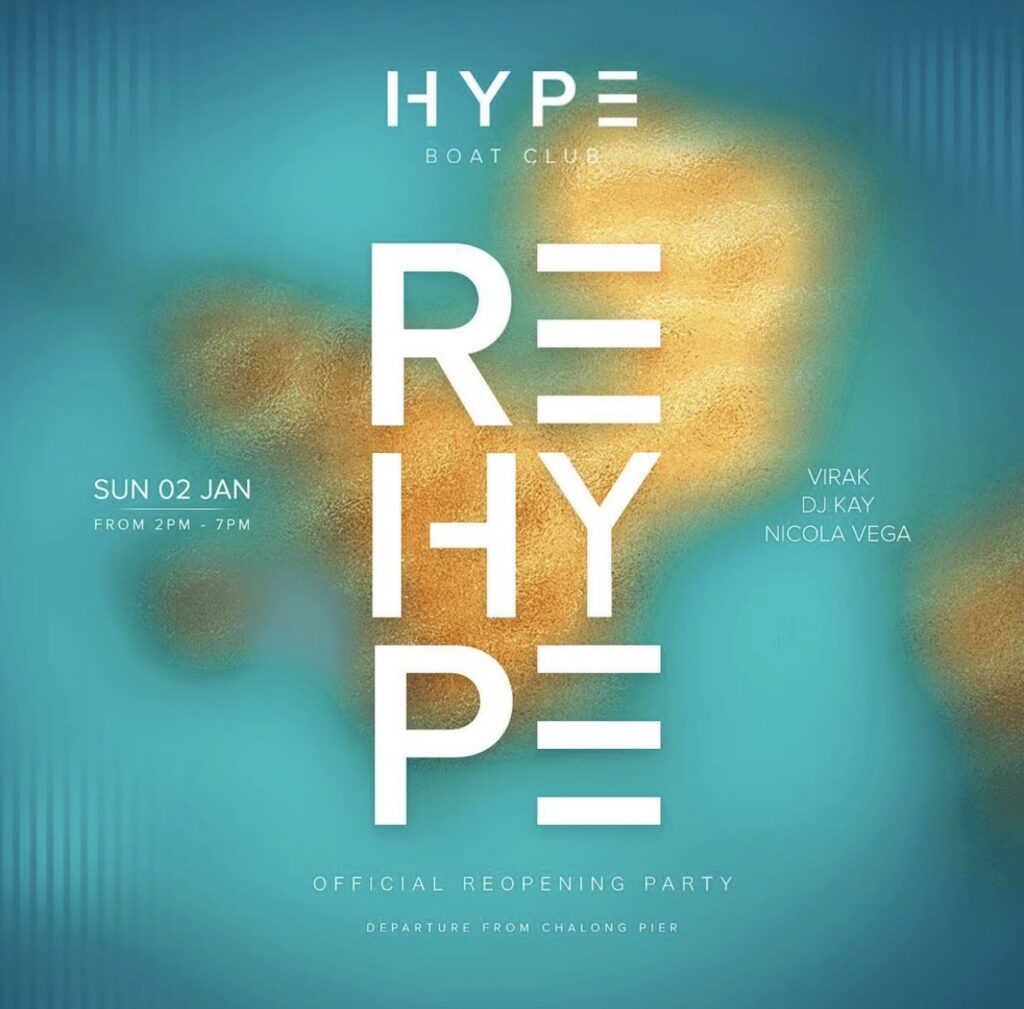 COME TO REHYPE WITH US !
We are back and ready to set sail for an epic party to celebrate the New Year & the re-opening of HYPE.????
Welcoming you all back on board at 2pm from Chalong Pier on Sunday the 2nd of January, this will be a party you don't want to miss.
Behind the decks, we have DJ Kay, Nicola Vega & DJVirak bringing us tunes as we sail into the sunset. ⛵
Subtotal
0

THB

Total
0

THB